In Memory
Bob Bibbs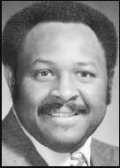 Robert Lee Bibbs, 71, died on Wednesday, March 23rd, at the Summit Commons Rehabilitation Center in Providence, Rhode Island. He was the husband of Lorine Bibbs.

Born in Little Rock, Arkansas, on November 30, 1939, he was the son of the late Otis Bibbs and the late Ada Carr-Marshall.

Robert served in the United States Navy during the Vietnam War.

Robert retired from the State of Rhode Island Auditor General Office, after 18 years of outstanding and dedicated service as an auditor. He was also a tax preparer for H&R Block for over 24 years until his death. Family and friends cannot forget his many dedicated years of tax work for them.

Robert served as a member of the Wiggins Village Tenant Association, Providence, Rhode Island until the time of his death. In addition, he served many years as an umpire for various baseball leagues throughout the state of Rhode Island.

Besides his wife Lorine, he leaves two daughters, Fannetta A. Bibbs and Robbin A. Bibbs, both of Providence; four siblings, Verda Johnson, Sue Carr, James Melvin Marshall, and Gregory Warren Marshall, all from Minneapolis, Minnesota.

Memorial Services will be celebrated on Saturday, April 2, 2011 at 10:00 A.M. at the Bright Funeral Home, 290 Public Street, Providence, RI. In lieu of flowers, contributions in his memory may be made to the American Heart Association, 1 State Street, Providence, RI.
Robert Lee Bibbs, 71, died on Wednesday, March 23rd, at the Summit Commons Rehabilitation Center in Providence, Rhode Island. He was the husband of Lo