In Memory
Jack Clark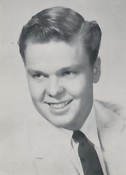 Jack Clark 72, of Marshalltown, Iowa, passed away Saturday, September 21, 2013, at Southridge Nursing and Rehab Center in Marshalltown, surrounded by his loving family.

Jacks wishes will be carried out by being cremated and there will be no services. Jack will be laid to rest at Riverside Mausoleum. Memorials may be directed to the family. For condolences or questions please visit: www.mitchellfh.com . Mitchell Family Funeral Home is caring for Jack and his family. Phone 641-844-1234.

Jack Earl Clark was born on August 25, 1941 in Marshalltown, Iowa; he was the son of Clyde and Lola (Hartwell) Clark. Jack attended School in the Marshalltown School District graduating with the class of 1959. He went on to serve our country honorably in the United States Army during the Vietnam War. Jack had been a self-employed mechanic his working career and last working for McLaughlin Construction from 1990-2000. He enjoyed stock car racing, NASCAR, hunting, fishing and in general the outdoors, he will be remembered as a great mechanic and a loyal friend.

Left to cherish his memory is his companion for 45 years Beverly McFarland of Marshalltown, Sister, Carol (Norm) Gossard of Garwin, Iowa, Brother-in-law, Merlyn Reinhard of Oklahoma, 2 nieces and a nephew and Beverly's daughters, Peg( Mike) Powers of Marshalltown and Dana (Bob) Hessenius of Marshalltown.

In death Jack rejoins his parents, Clyde and Lola , Pete Strohm and his sister Deanna Reinhard , 2 nephews and Beverly's daughter, Christine Pinkerton.