In Memory
Leanne Tasler (Large)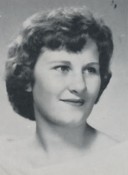 LeAnne Tasler (Mrs. Tom) Large, 67, of Marshalltown, died Saturday, May 2, 2009, at her home. Funeral services will be held at 11:00 a.m. Wednesday, May 6, at the First Presbyterian Church in Conrad with Pastor Kerry Carson officiating. She will be laid to rest in the Oakland Cemetery in Beaman. Visitation will be held from 5-7 p.m. Tuesday at the Mitchell Family Funeral Home in Marshalltown.
Born LeAnne Tasler on August 26, 1941, in Marshalltown, she was the daughter of Ernest and Edith (Pegg) Tasler. She graduated from the Marshalltown High School's class of 1959 and later attended beauty school in Des Moines.
On June 2, 1961, she was united in marriage to Tom Large in Marshalltown. They made their home in Des Moines, Marshalltown, Conrad and then returning to Marshalltown in 1999. She was employed at Marshalltown Manufacturing, operated her own beauty shop in her home, Bruin Manufacturing, IVH, Oakview Nursing Home and was the owner and operator of the Center Street Mini-Mart in Conrad. LeAnne loved her family and enjoyed all their events, doing bingo inToledo and was a very generous, giving person. She would always prepare food for those in need and give them her last dime.
Left to cherish her memory are Tom, her loving husband of 47 years, daughter Terri (Phil) Huntley of Conrad, son Jeff of Beaman, her dear grandchildren; Cpl. Daniel Huntley, USMC in Iraq, Drue Huntley of Conrad and her daughter Madison, Stephanie Huntley (Cody Donaldson) of Eldora, Ashley Large and Ryan Large of Brooklyn and Ashlynn, Mikayla and Tanner Large all of Tama, her brother Robert (Linda) Tasler of Marshalltown and a host of other family and friends.
In death she has rejoined her parents and brother, Richard Tasler.