In Memory
Chuck Badgley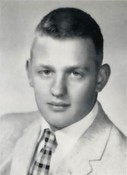 Charles W. Badgley was born on February 10, 1941 and passed away on April 8, 1977. Services were held on April 11, 1977 at Elim Lutheran Church in Marshalaltown with the Rev. O.K. Anderson and Rev. Walter Rasmussen in charge.
Pall bearers were Denny Severson, Bernie Brown, Richard Stevens, Jim Scoville, Kent Loney and Larry St. John.
Burial was at Rose Hill Memorial Gardens in Marshalltown.