In Memory
Jill Collins (Welch)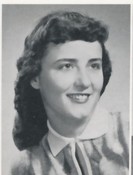 Jill M. Collins, 55, of 1 West Grant Street, Marshalltown, died Friday, February 9, at University of Iowa Hospitals and Clinics, Iowa City.
Services will be 10:30 a.m. Tuesday at Pursel-Davis Funeral Home. Burial will be at a later date in Rose Hill Memorial Gardens. There will be no visitation. A memorial fund has been established.
Jill was born January 7, 1941, in Marshalltown to Robert and Margaret Robinson Collins. She graduated from Marshalltown High School in 1959.
She married Don Welch and later divorced. She later married Larry Criswell. She was a member of Calvary Baptist Church in Grinnell.
Survivors include a daughter, Donna Story of Marshalltown; two sons, David Welch of Marshalltown and Nathan Criswell of Grinnell; four grandchildren, and a sister, Jackie Jaynes of Grinnell.
She was preceded in death by her parents.