In Memory
Margaret Fleming (Hamilton)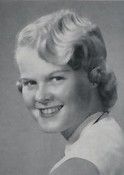 Margaret Fleming Hamilton, 62, of 1475 Wallace Avenue, died Friday, November 28, 2003 at the Marshalltown Medical and Surgical Center.
Private family services will be held at Riverside Cemetery in Marshalltown. Visitation will be from 6 to 9 p.m. Tuesday, December 2, at the Pursel-Davis Funeral Home and Crematory, where the family will be present to greet friends. Memorials may be directed to the American Cancer Society.
Survivors include her husband, Jim, of Marshalltown; daughters, Lori Wickham of St. Anthony, Tami (Ronald) Kuykendall of Massachusetts; mother Mary Burns of Kansas City; brother, William Fleming of Arizona; seven grandchildren, and one great grandchild.