In Memory
Terry Hilleman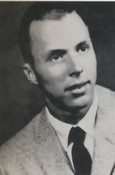 Dr. Terry B. Hilleman, 66, of Marshalltown, Iowa died early Saturday morning, August 9, 2008 at the Kindred Hospital in Ft. Lauderdale, Florida.
Funeral services will be held at 1:30 p.m. Monday, August 18th at Trinity Lutheran Church, with Pastor Gregg Davison officiating. He will be laid to rest in the Riverside Cemetery. Friends may visit or call at the Mitchell Family Funeral Home from 2-4 p.m. on Sunday, August 17th.
Born on August 17, 1941 in Marshalltown, he was the son of Clarence and Gladys (Tigges) Hilleman. He was a 1959 graduate of Marshalltown High School and graduated from Marshalltown Commmunity College in 1961. He went on to graduate with honors and received his BS degree in Zoology from the University of Iowa in 1964. In 1968 he graduated as valedictorian from the University of Iowa College of Dentistry. He went on to specialize and graduated as an orthodontist in 1970 and competed his master's degree in researching a new arch wire that is used by orthodontists everywhere today.
Dr. Hilleman made his home and began his practice in Plantation, Florida for 15 years. He then returned back home to Marshalltown to resume his orthodontic practice here.
Terry was an avid hunter, scuba diver, and outdoorsman. He also loved traveling and was authoring a completed work in environmental biology. He was a member of the American Association of Orthodontists, the Trinity Lutheran Church, the NRA, Isaac Walton League, scuba instructor with his diving club in Florida and gun club in Marshalltown. His greatest joys were spending time with his family and friends.
Left to treasure his memory are his loving wife, Dr. Colene Grecian; his daughter, Erika, his sons; CPT Robert (Ann) Hilleman, who is currently serving in the US Army, and their daughter, Holly, and Kurt (Paula) Hilleman of Pompano Beach, Florida; his mother, Gladys Hilleman of Marshalltown; his sister Dixie Teegarden of Oakland, California,; and his brother, Douglas (Patricia) Hilleman of Jupiter, Florida. In death, he has rejoined his father, Clarence Hilleman.