In Memory
Ronald W. Wheater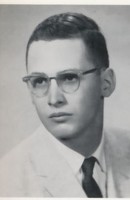 Ronald Wheater, 65, of rural Marshalltown, died Sunday afternoon, November 26, 2006, at the Marshalltown Medical and Surgical Center. His death came peacefully at 3:35 p.m., with his family at his side.
Funeral services and a celebration of his life will be held at 10:00 a.m. Thursday, November 30th at the First Presbyterian Church, Albion, Iowa, with Pastor Bea Lebuda officiating. He will be laid to rest in the Rose Hill Memorial Gardens. Friends may call at the Mitchell Family Funeral Home from 5-8 p.m. on Wednesday.
Born on May 23, 1941, in Marshalltown,he was the only child born to Robert Daniel and Gladys Marie (Zednichek) Wheater. He attended the Burr Oak Country Schools and later the Marshalltown public schools, graduating from Marshalltown High School in 1959. Ronald attended the semester Agriculture course at ISU.
On October 2, 1965, he was united in marriage to Sharon Tidball at theFirst United Methodist Church in Marshalltown. They have dairy farmed and made their home on West Summit Street all of their married lives.
Ron was passionate about Holstein cattle and dairy farming and telling about them to school tours hat would visit. He enjoyed being a 4-H participant and leader, John Deere Tractors, showing and judging cattle, playing Wahoo, the annual trip to the Iowa state Fair, animals, Western movies, classic country music and gospel music by the Gaithers. He was a member of the Iowa, National and District Holstein Association, former Marshall County Milk Dealers Co-op, Swiss Valley Co-op and attended the First Presbyterian Church at Albion.
He will be greatly missed by his loving wife of 41 years, Sharon, daughter Susan (Charlie) Rainsbarger of rural Kellog, Iowa, grandchildren Hallee and Ethan and a grandson on the way, his dog Mandy, beloved in-laws and relatives, and numerous friends and neighbors.
In death, he has rejoined his parents.