In Memory
Carol Winston (Kiener)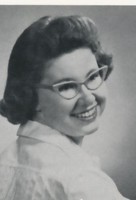 Mrs. Carol Lynn Winston Kiener, 66, of Johnson City, passed away on Monday, March 24, 2008, at Johnson City Medical Center.
She was born July 2, 1941, in St. Paul, Minnesota, to the late Arthur Samuel and Edith Ann Reuter Winston.
Carol received her BS degree in Education from Drake University and her Master's degree in Reading from ETSU. She dedicated 30 years to teaching in the public school systems of Iowa, California, and locally at Keystone, North Side, North Central, Henry Johnson and the Science Hill High School GED program.
Se encouraged all her students to strive to reach their full potential. Her dedication to her students included following up with many of them to make sure they found employment after graduation. She attended ETSU's Aerospace and Math Caps workshops and was designated a Career Ladder 3 teacher by Gov. Lamar Alexander.
Additionally, Carol received the 1984 Conservation Teacher of the Year award for Washington County and the State of Tennessee. She was an active member of the Washington County Retired Teachers Association. Before becoming a teacher, Carol's first job was as a social worker in Chicago.
A believer in giving back to her community and helping people to better themselves, Carol taught in the Families First program at Keystone assisting students in obtaining their GED's. She developed a conservation program and wrote many grants to support various programs in the Keystone Community. She was instrumental in developing a multi-generational garden project at the school that taught the students how to cook what they had grown. In partnership with General Shale, Carol developed an outdoor learning center at Keystone.
She was a member of B'nai Sholom Congregation in Bristol, Tn, where she was a lifetime member of the Board of Directors and a former religious school teacher.
Carol was also very active with fundraising for the March of Dimes and served on their Board of Directors. She also volunteered with the Girl Scouts of America and oversaw Camp Wildwood.
She was a member of the Washington County Republican Women, Washington County Historical Society, the Youth Council of Northeast Tennessee Workforce Investment Board, the Northeast Services Community Agency Board and Gov. Don Sundquist's Tennessee-Israeli Cooperative Commission.
Carol married John Leslie Kiener on June 4, 1966, in Fresno, California. Having known each other since the 3rd grade in Marshalltown, Iowa, they began dating while John was in law school at Drake University.
Living life to the fullest, she enjoyed planning trips and traveling, gardening, dancing, cooking, reading, and going to the Wellness Center.
She is survived by her husband, Retired Sessions Court Judge John Kiener, Johnson City; two daughters and sons-in-law, Susan and Andrew Lobsenz, Round Rock, Texas, and Gretchen and Paul Lewis, Dallas, Texas; a brother, Jerome Winston, Melbourne, Australia; three grandchildren, Sarah and Michael Lobsenz and Campbell Rose Lewis, and a niece and nephew, Sarah and Matthew Downs, Marshalltown, Iowa.
A funeral service for Carol Lynn Kiener will be held at 2:00 p.m. Thursday, March 27, at Tetrick Funeral Services with Dr. Charles Fish and Dr. Jeffrey Gold officiating. The family will receive friends from noon until the time of the service.
A graveside service will follow at the B'nai Sholom Cemetery, Bristol, Va. Pallbearers will be Andrew Lobsenz, Paul Lewis, Alan Deitel, Bob Ritter, Dr. Roger Miranda and James Foote. Dan Ward will serve as an honorary pallbeareer.
In lieu of flowers, the family requests memorials be given to any of the following charities: March of Dimes, 2700 South Roan Street, Johnson City, Tn, 37601; B'nai Sholom Congregation, 2510 Highway 126, Bristol, Tn, 37620; Rheumatoid Arthritis Foundation, 421 Great Circle Road, Ste. 104, Nashville, Tn, 37228.