In Memory
Carlene K. Nelson (Prahl)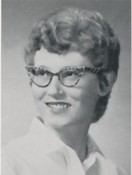 Heart attack
Obituary for Carlene Prahl
Carlene N. Prahl, 69, of Ankeny, entered into eternal life, July 27th, 2010, at Iowa Methodist Medical Center in Des Moines. A Memorial Gathering will be held 1:00 P.M. to 3:00 P.M. August 3, 2010 at Pursel-Davis Funeral and Cremation Care. Memorial contributions to honor Carlene may be directed to the American Diabetes Association. Online condolences may also be sent to the family at www.vogelfuneralhomes.com.
She was born January 28th, 1941, to Clifford and Hilda (Paul) Nelson in Marshalltown IA.
Carlene graduated from the State College of Iowa with a degree in education in 1963. She taught English in the Clinton Iowa School District from 1963 to 1966. Later she worked for the Iowa Department of Human Services in Newton. She enjoyed gardening, watching movies, traveling, spending time with her grandsons and was an authorized photographer for the John Wayne Birthplace Museum.
Carlene will be dearly missed by her husband Ron, her daughter and son in law, Emily and Jim Robidoux, her grandsons; Paul and Jake and her mother Hilda Nelson.