Guess who we are?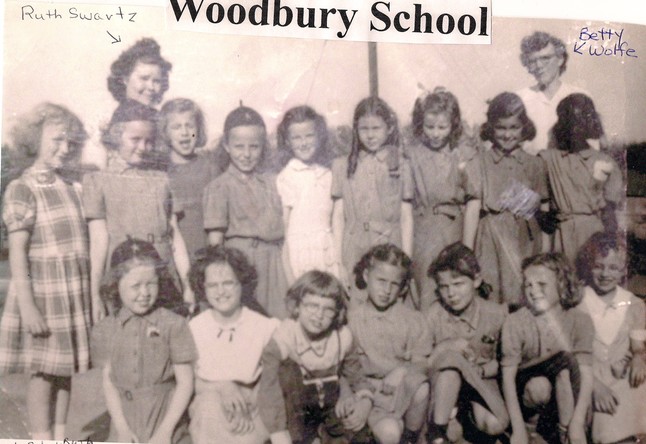 Back row, left to right, Judy Schulz, Ruth Swartz, Linda Lamer, Rita Triplett, Diana Tressler, Francis Kubik, Karen Swartz, Susan Wolfe, Nancy Uhde, Sybil Baily, Betty Wolfe. Front row: Mary Wehrman, Gail Vandercook, Kay Richardson, Audrey Amen, Audrey Kolbe, ....Triplett, Joan Zink.
Thank you Karen Swartz Weltzin for this photo.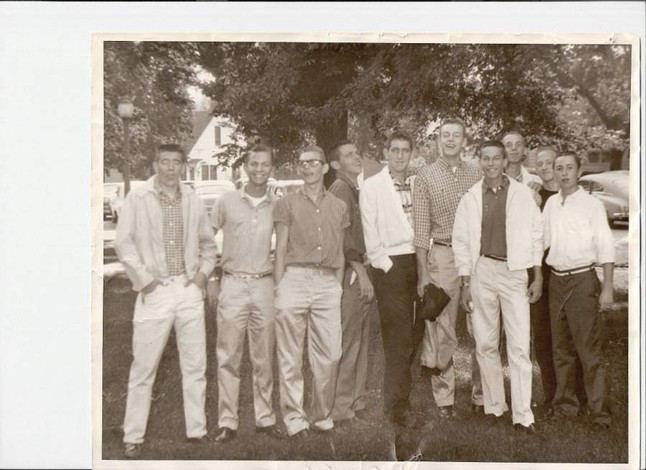 Taken in from of high school (now junior high) sometime during 1959, left to
right: Ted Williams, Don Hickman, Larry Phipps, Dick Stevens, Larry St John,
Dave Hansen, Ken Rowe, Jerry Peek, Kenny Williams (class of 60, I think) and
Dave Whaley.
Photo supplied by Ken Rowe. Thanks Ken!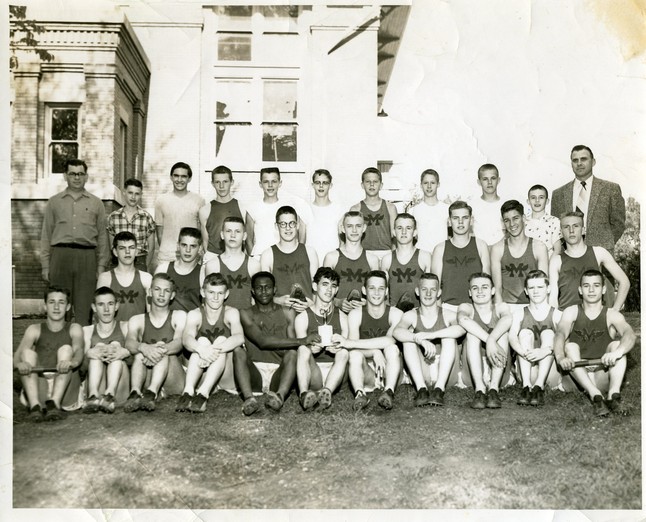 Central Junior High Track Team 1954-55.
Front Row L~R: Denny Paul, Bill Mellows, Don Hickman, Lee Eggleston, Bob Bibbs, Ron Wooster, Bernie Brown, Chuck Badgley, Denny Lynch, Roger Moore, Ron Navara. Middle Row L~R: Jerry Robinett, Rodger Watson, Lynn Cunningham, Dave Druker, Larry Phipps, Larry King, Craig Carlson, Mike Marble, Lanny Cowell. Back Row L~R: Coach Cunningham, Dave Mendenhall, Norm________, Kenny Lamb, Dick Stevens, Jim Short, Ron Zwemke, Roger Hinshaw, Larry Miller, Tom Mitchell, Coach Grant Peterson.
Photo supplied by Ken Lamb. Thanks Kenny!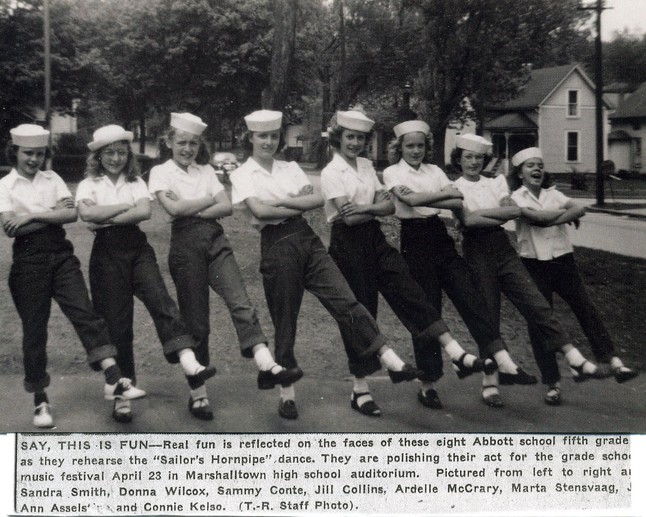 Photo provided by Marta Stensvaag Limbacher. Thanks Marta!
************************************************************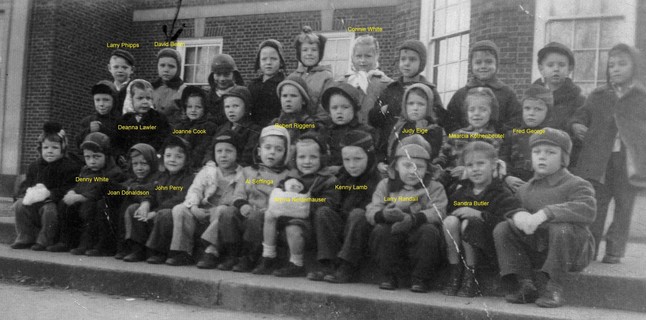 Aaron Palmer Kindergarten Class 1946-7
Front Row: ?, Denny White, Joan Donaldson, John Perry, ?, Al Seffinga, Myrna Neiderhauser, Kenny Lamb, Larry Randall, Sas Butler & ?.
Second Row: ?, Deanna Lawler, Jo Cook, ?, Robert Riggens, ?, Judy Eige, Marcia Kothenbeutel, Fred George.
Third Row: Larry Phipps, Dave Beem, ?,?,?,Connie White,?,?,?,?,
Where is Sharon Colter, Sharrell Hamilton, Carol Bossum, etc?
E-mail idenities to Chuckie and she will place them on the photo.
Photo supplied by David Beem. Thanks Dave!
******************************************************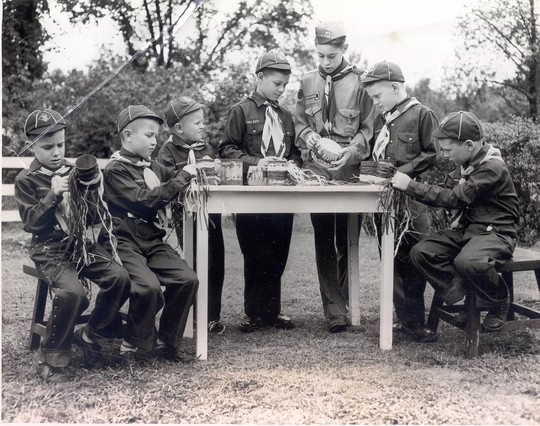 Left to right: Jim Cribbs, Dave whaley, Eddie Sylvester, Mike Marble,
Leader Dave Mather, Roger Watson and Dan Winter.
Photo supplied by David Whaley. Thanks Dave!
******************************************************
Aaron Palmer 3rd Grade


Photo supplied by Joan Donaldson Tough. Thanks Joan!
*******************************************************
Front Row: Judy Hamelau, Barb Johnson, Ruthann Lee, Melanee Helm, Judy Hager, Margo Neudorff, Ellen Medhus, Carol Winston, ? Mary Turner.
Second Row: ?, Jon Boles, ?, Larry Schmoranz, Dennis Lynch, ?, Jim Short, Gorden Uhde, Steve Andrews, Danny Winter, Glenn Brockett, Dave Whaley, Chuck Badgley.
Third Row: Marsha Whitcombe, Roberta Irvine, Deanna Smith, Anne Collison, Mary Kathryn Mathern, Nancy Groenwald, Barbara Oberstein.
Fourth Row: Rodger watson, Michael Marble, John Wells, Thomas Ruglow, Stanley Reid, Jerry Gummert
Photo suplied by Roberta Irvine Paul. Thanks Bert!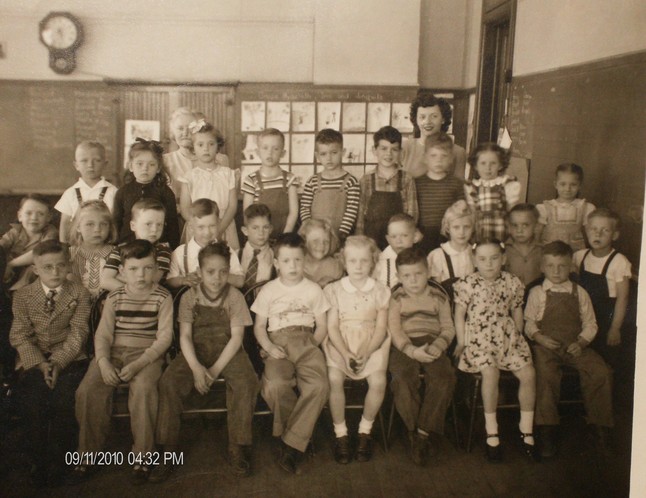 Arnold Kindergarten, the future MHS graduating class of 1959.
Back Row: Dennis Severson. ?, Karen Harris, Gilbert Harris, Ronald Wooster, Stephen Gorshel, Gary Fingert, ?, Bonnie Belt.
Middle Row: ?, Margaret Nielson, Terry Hillman, James Cormichle, ?, Patty Thompson, Chuck ?, Judith Baily, Henry Eiler, Larry Mayer.
Front Row: James Baily, Jerry Robinette, Craig Spencer, David Druker, Margaret Mishler, Lynn Cunningham, Carol Hulsizer, John Detrich.
Principle: Mrs. Chamberlin
Teacher: Miss Lois Temple
Photos furnished by Carol Hulsizer Krause. Thanks Carol!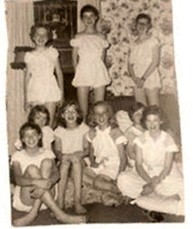 Looks like a great slumber party. Back row, left to right, is Melanie Helm, Deanna Smith, Carol Winston. Front row left to right is Mary Katherine Mathern, Bruceanna Cook, Roberta Irvine, Judy Hager, Arlene Anderson, and Anne Collison.
Photo by Deanna Smith Rhiner. Thanks Deanna!
To enlarge those below: R click and save to your picture file, then view on edit.
Anson 5th Grade:
Photo provided by Marilynn Treiber Kerr
Anson 3rd Grade: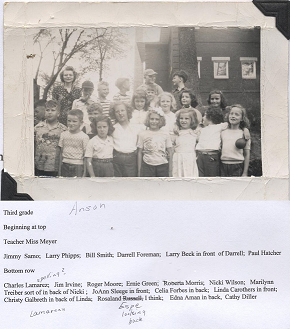 Photo provided by Marilynn Treiber Kerr
Photo provided by Marilynn Treiber Kerr; thanks Marilynn!
Any photos are very welcome/ invited!